Housing minister welcomes Trust's equality 'benchmark'
Landmark IID achievement praised at Scottish Parliament event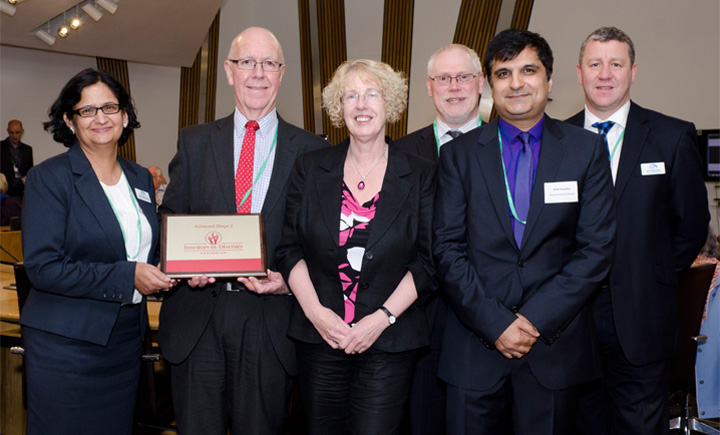 Edinburgh, UK, May 22 2013 – Margaret Burgess, Minister for Housing and Welfare last night welcomed Trust's pioneering achievement in securing the Investors In Diversity accreditation - and said the organisation had led the way for housing providers throughout Scotland.
The Minister was speaking at a special event in the Scottish Parliament on Tuesday, May 21, sponsored by Edinburgh Southern MSP Jim Eadie, to celebrate Trust becoming the first Scottish housing association to achieve IID status.
The Housing Minister Said, "I congratulate Trust on its commitment to equal opportunities. You have, over many years led the way in developing projects that have successfully tackled diversity and equality issues.
"When the Scottish Parliament approved the Social Housing Charter we were pleased stakeholders representing equality and disability interests universally welcomed the separate equalities outcome. I would like to thank Rohini Sharma Joshi for her involvement in the advisory group that worked on the development of the Charter and for her belief it needed to contain an explicit equality outcome.
"By being the first housing association in Scotland to achieve Investors in Diversity you have demonstrated your strong commitment to diversity and equality issues and set a benchmark for other housing providers."
Trust Chief Executive Bob McDougall said: "We're delighted the Housing Minister has been able to join us to help celebrate our obtaining IID accreditation. This is a great achievement for Trust and we are particularly proud to be leading the way as the first Scottish housing association to attain this highly-regarded status.
"We're delighted our success has been recognised. This achievement reflects the hard work of our people and their unwavering commitment to continually raising the bar on Equality, Diversion and Inclusion issues."