Partnership Projects
Equality, Diversity and Inclusion Programme
A number of initiatives and projects have been developed by Trust Housing Association to deliver the programme and it continues to deliver projects in partnership with other housing associations:
Projects
Older People's Services Research Report
Over 400 ethnic minority older people in Scotland participated in the research over a 3 year period, and the resulting report, entitled Count Us In, provides unprecedented insights into their growing needs. The participants spoke of their life journeys and achievements, but also of the struggles they experience with deteriorating mental and physical health, unable to overcome language, cultural and digital barriers to access support. To read the research report Click here.

Rohini Sharma Joshi FCIH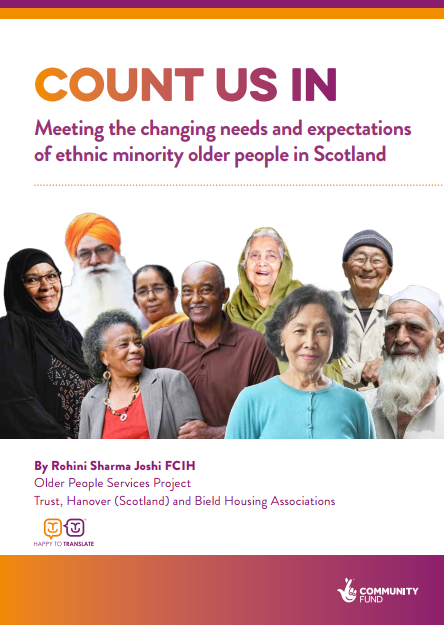 ---
Older People's Services Project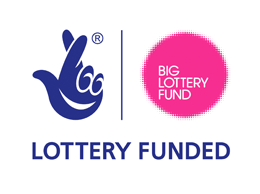 Our Older People Services Project has delivered positive outcomes over ten years. It is the only national outreach initiative focused on the complex needs of older ethnic minority people and working with people from diverse religious and cultural backgrounds and ethnicities and with disabilities. The project provides practical assistance and include the people we help in decision-making. The project is jointly supported by Trust, Hanover (Scotland) and Bield Housing Associations.
The project is working closely with older people, their families and community groups to help them to learn about and access a range of vital benefits and services to which they are entitled to.
The Lottery funded project, which started in April 2017 was granted an award of £336,893 towards the cost of running the project for three years, with the ongoing support of the three housing associations. The project has employed two multi-lingual staff to work with older people to carry out the research.
Our project carried out work with ethnic minority older people across Scotland by:
- Individual consultations to identify needs and concerns
- Increasing awareness of services and facilitating access
- Creating an Ethnic Minority Older People Forum to give people a direct voice
- Identifying strengths and providing support into leadership roles
- Helping overcome barriers via multi-lingual, culturally-appropriate information and access to services
- Reducing social isolation, loneliness and increasing financial independence
- Working with partners to achieve more inclusive service design and delivery.
Older_People_Services_Poster2017.pdf
Older_People_Services_leaflet_2017.pdf
If you would like some more information, please contact the team:

Ruby Ng (Older People Services Co-ordinator)
Office: 0131 444 4941
Mobile: 07815923761
Bushra Sharif (Older People Services Co-ordinator)
Office: 0131 444 4952
Mobile: 07814854875


---
The Scottish Ethnic Minority Older People Forum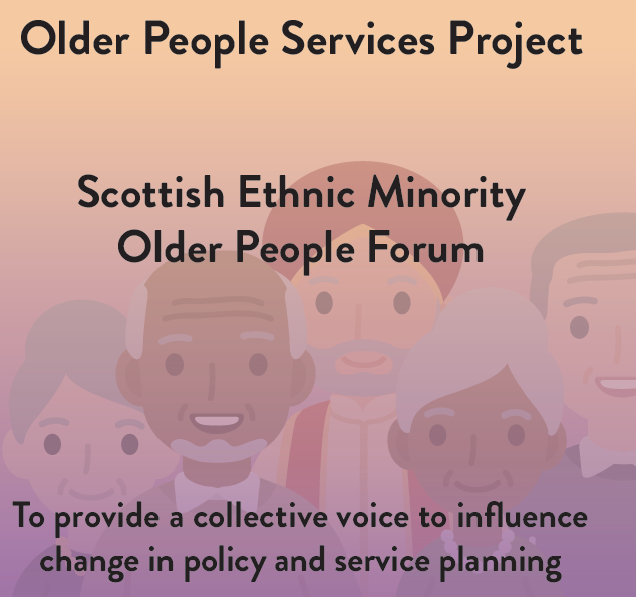 The Scottish Ethnic Minority Older People Forum has
been set up by The Older People Services Project, to
engage with,encourage and support them to become
effective leaders and advocates for themselves, their
families and their communities.
Scottish_Ethnic_Minority_Older_People_Objectives.pdf
---
Scottish Memories- Immigration Stories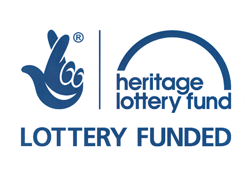 The Memories Project, jointly run by Trust, Hanover (Scotland) and Bield housing associations, received funding to record stories which shed new light on a little known but formative period in Scotland's social and economic history. The Memories Project was created and developed by the Equal Opportunities Programme which has a strong track record in working successfully with older people from ethnic minority communities across Scotland.

A small project team conducted interviews with older people from across Scotland recording people's experiences of arriving in the UK, dealing with authorities, finding homes and work and making friends, capturing the highs and lows of their day-to-day existence.
The stories, together with specially commissioned photographs of the participants in the project as well as important historical documents and artifacts, collated in a book which were distributed to those involved in the project and it is available to selected libraries and educational establishments as a valuable learning resource.
The Memories Project also includes a multimedia element in which some individual older people were filmed talking about their lives and interacting with school students who had the opportunity to participate in this living history project. The resulting film footage and extracts from the book were exhibited at several venues across Scotland in order to ensure as many people as possible benefited from the project.
If you would like more information, please contact:
Rohini Sharma Joshi (Equality Diversity and Inclusion Manager):
0131 444 4950